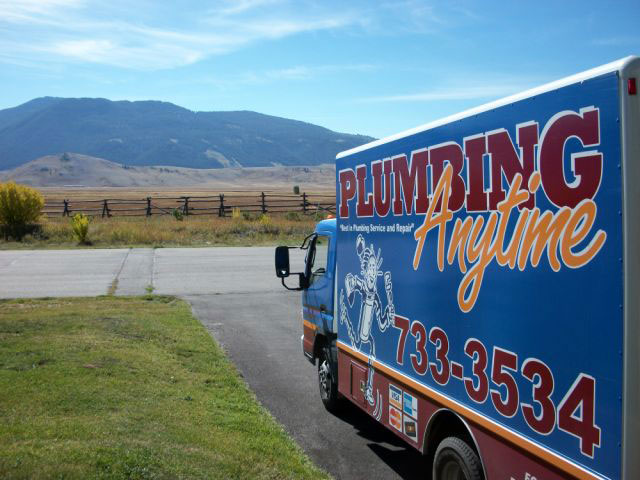 Plumbing Anytime was started in 2004 by Stephen Davidson, a Jackson Hole native, who has been working in the plumbing field for the past 26 years. He originally started in the commercial industry, including schools and government buildings where he had to endure strict and ruthless inspectors and has gradually moved into a combined commercial and residential practice. His philosophy is simple: Provide quality and prompt service!  You will find Steve especially enjoys those complex plumbing problems and is fully capable to problem-solve your toughest clogs, water heater issues, septic tanks needs, or other general plumbing needs in Jackson Hole, Wyoming.
Your Jackson Hole Plumber at Plumbing Anytime is available 24 hours a day, 7 days a week to address all your emergency plumbing needs!
Mission Statement
Our Customers Are #1 And Their Needs Come First.
We serve our customers with integrity, competence, and objectivity. We will explore each customer situation in detail and gather sufficient facts to gain an understanding of the problems. We offer our customers options so that they can choose the solution that fulfills their wants and needs and is the most beneficial to them.
We know you have choices when it comes to plumbing companies. You can get plumbing services from any of the numerous plumbing companies serving the Jackson Hole area. But we are convinced that when it comes to finding the best plumbing services, we're your best choice. Providing a superior level of customer service is an all-consuming passion for us and an achievement in which we take immense pride.
Service you can trust has been our expert plumbing company's goal since day one. We strive to meet our customers needs by helping them make informed decisions based on our knowledge and expertise. We commit ourselves to providing quality plumbing services with excellent workmanship. We listen to our customers and offer solutions for their plumbing needs.
We aspire to provide quality craftsmanship and professionalism with every job that we are dispatched to. Customer satisfaction on every job performed is our plumbing company's primary goal. We are friendly, courteous, knowledgeable and totally committed to serving you better than anyone else. That's what Plumbing Anytime is all about!